Heras Mobile Fencing & Security is commissioning a brand-new, fully automated production line. The new welding line is in the factory in Pelt (Belgium). In addition to boosting production capacity, the new machine also increases flexibility throughout the production process.
A well-considered fencing plan
"This new, fully automated production line means our production is once again state of the art and that we're churning out mobile fences at high speeds," says Bram Dalemans, Supply Chain Manager. "Fence production with the old machine was also automatic, but the speed was significantly lower. That makes this an important upgrade. Not only does it boost our capacity, but we are also gaining greater flexibility. The new welding line doesn't just generate standard fences automatically, but also produces all kinds of variants seamlessly, such as a Round Top version or fences with a central support bar or corner brackets and all with no changeover time."
Complete production
The new production line generates complete fences in no time. "We start by feeding tubes and welded mesh at the beginning of the production line. After that, the production process is fully automatic. First, the frame is welded – including any corner brackets or central support bars – and then the mesh is welded on. The machine even takes care of bending the corners for Round Top fences. By the time it reaches the end of the line, a complete fence has been produced, including the nameplate," Dalemans explains. "That may be a nameplate with the Heras logo."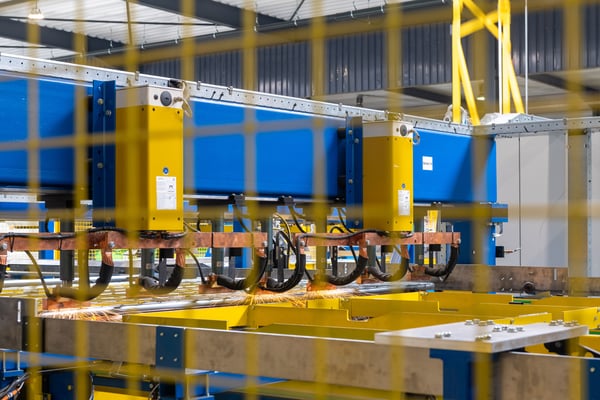 Quality boost
The new production line is located in a new hall next to the current factory hall in Pelt, Belgium. "We've seen a growing demand for mobile fences, this was also the main reason for the expansion," says Dalemans. The new welding line also improves our product's quality. The new welding technology enables us to guarantee an even higher quality of welding.

Above-mentioned advantages result in shorter delivery times for temporary fences, the possibility of more variants, and an even higher quality fence due to the stronger weld.