Why choose Heras Mobile?
Inner-city construction sites
Do you have a construction project that you want to realize in a city center? Then contact Heras Mobile. We have a lot of experience with inner-city construction sites and are happy to work with you to secure your inner-city construction site with the appropriate barriers, access control systems, and accessories.
Good to know
The number of construction projects in inner-city areas is on the rise.

The complex infrastructure in the city, limited space on the construction site, and noise pollution for local residents pose major challenges.

A construction project in the city requires extensive planning.
Yves Spooren
International Account Manager
"Over the years, we have completed a large number of different projects in inner-city areas. We are happy to roll up our sleeves for your construction project too."
Quality
Heras Mobile invented the mobile fence. And to this day, we are pioneers in terms of innovation, quality, safety, and durability.
Reliability
At Heras Mobile, we have more than 50 years of experience in temporary fencing. This makes us a premium partner.
Sustainability
Durability and sustainability genuinely take center stage in our products and relationships and our support in terms of Health, Safety & Environment.
Personal support
No request or challenge is too big for us. Honesty is our trump card in everything we do.
An inner-city construction site presents challenges
It is predicted that more and more people will live in cities. The demand for housing in inner-city areas is therefore also increasing. But inner-city construction is not an easy job. Contractors are faced with limited space, noise restrictions, and the need to keep surrounding roads clear.

Heras Mobile helps you tackle these challenges. We offer a variety of mobile fences, access control solutions, and related accessories to enhance the appearance of construction sites and reduce noise pollution. We are also happy to work with you to ensure smooth construction traffic flows by placing pedestrian and sliding gates in the right places without having to close off any of the surrounding roads.

The greatest challenge at inner-city construction sites is the limited space. Construction sites are often located along a major road with little site space and heavy traffic. As a result, construction companies have to carefully plan the delivery of materials without hindering other traffic.
Minimize inconvenience, maximize the appearance
Our range includes various inner-city mobile fences that prevent theft and vandalism on and around the construction site. In addition, the closed anti-graffiti panels ensure a more attractive streetscape. The fences block the view of the construction site for motorists, while pedestrians can still watch the progress in peace and quiet.

In addition, the Heras Noise Control Barrier 2.0 is a flexible, user-friendly, and affordable solution to reduce construction noise and instantly prevent your inner-city construction project from being halted due to noise pollution. These noise-reducing screens shield the construction site and, just like the city fences, block the view of the construction site.
Key features in a nutshell:
The City fences and Noise Control Barriers result in a cleaner, more attractive streetscape.

A well-kept construction site with an attractive appearance contributes to a positive corporate image and the safety of your employees.

The Noise Control Barrier 2.0 reduces construction noise and prevents complaints by local residents.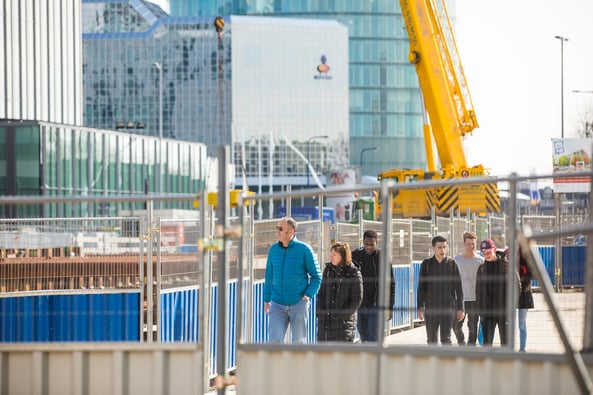 Use your fencing to showcase your project
Generate maximum publicity for your project while effectively shielding your construction site. You can use our mobile fences to advertise your current or future projects. This way, you screen off your inner-city construction site and give local residents and passers-by a glimpse of the final result. Advertising banners also catch a lot of dust from your construction site. As a result, they also reduce the inconvenience for local residents.
"Brand awareness of your company or a preview of your current project and future plans: that's more publicity than you will ever get at any other advertising location for that price."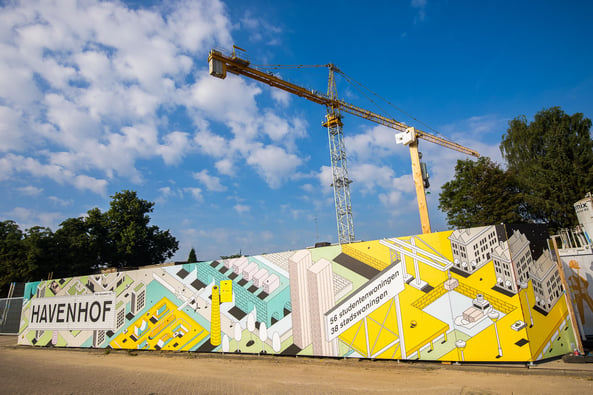 Solutions suitable for inner-city areas
While there may be some exceptions, these fences and accessories are suitable for virtually any inner-city site.