Very sharp razor wire
This concertina of very sharp barbed razor wire is widely used for the protection of military installations, industrial estates, as well as temporary fencing for high-risk locations. This is the Concertina Crossed variant. This is the Concertina Crossed variant, double wires that cross are connected by clips; the rolls are pulled apart like a harmonica. It offers better protection than a Single variant, and is an impenetrable barrier. The less it is pulled out, the more turns and increased security. This type of barbed wire is an excellent deterrent. It is not suitable for holding animals. When using non-tensioned barbed wire, 25 m of the wire must be used for 10.5 metres of Heras temporary fencing (3 Heras temporary fencing elements of 3.5 m).
Keep people out
Maximum deterrence
Specifications
Art.: E0900
Height: 900 mm
Width: 10000 mm
Depth: 900 mm
Package quantity: 50
Weight: 18 kg

"The Formula One Grand Prix is an international event that attracts millions of fans each year. Our dealers are happy to think along to help manage the safety around the Formula 1 circuits.
Read testimonial
You can ask Yves anything. He is happy to help you.
International Account Manager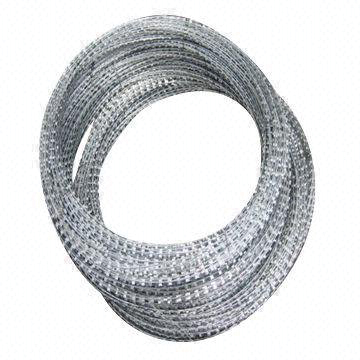 Choose this product
Concertina 10 m